Deluxe Porta Pottys in Buffalo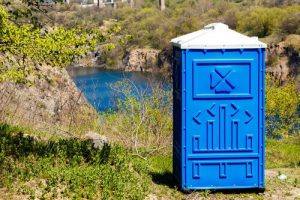 Buffalo is a city of more than 255,000 residents within the state of New York. From the Buffalo zoo to the Albright-Knox Art Gallery, it is a city that offers many things to many people if you are willing to look for them. The city adapts to your needs like a deluxe porta potty with a built-in flush.
Picture this, you are at the Buffalo New York Park. At a cookout with friends and family. Suddenly your stomach growls with a vengeance, no worries, your brother-in-law rented a porta-potty. You rush to it only to find that your brother-in-law had rented the cheapest option-a regular porta-potty.
Now, you've got a dilemma because a regular porta-potty has no flush and as a result, this porta-potty will not cover up your bowel movement. This could have been avoided.
What is a Deluxe Porta-Potty?
A deluxe porta potty is an answer to your problems. Deluxe porta-potties have a built-in flush, which means that instead of your waste staying in place and gathering up with each use, it is washed away. How does this marvel work? It is simple, deluxe porta-potties each come with a built-in water tank.
These water tanks make it possible for water to be pumped right into the toilet. What you end up with is an experience equal to one that you would have at home. Now you may be asking, where exactly does the waste go? Fear not! There is no unlawful dumping occurring here. The deluxe porta potty comes with a hermetic tank in which all of your waste is stored.
Why Choose Anything Less?
Having the ability to flush removes the disgusting factor that has long plagued porta-potties. You are no longer subjected to relieving yourself inside of what amounts to a hole in the ground. You should not have to settle for the bare minimum when it comes to waste disposal.
This is what a deluxe porta potty represents, an opportunity to have a more dignified and sanitary bathroom, only it's on the go. You can take it anywhere and it could be put to use in any outdoor situation.
Where to Place A Deluxe Porta Potty?
At a construction site or perhaps, throughout the course of a marathon. it is not uncommon for runners to suddenly feel the urge to go to the bathroom. Rather than having them desecrate the land or park, why not have a few deluxe porta-potties spread throughout the event?
A party in a park is always a beautiful family scene and now it can be a hygenic one as well. The short of it is, if it fits, then you are good to go. Although the most common usage of a deluxe porta-potty will be at outdoor family gatherings and swap meets, so be sure to keep this in mind when looking to rent one out for yourself.
Don't deny yourself or your patrons the right to a sanitary and comfortable bathroom option. Not only is it a portable solution to your problems but with a hand-wash station placed outside of it, you ensure that no one walks away feeling dirty.