Portable Hand Wash Station
Buffalo Area Portable Hand Wash Station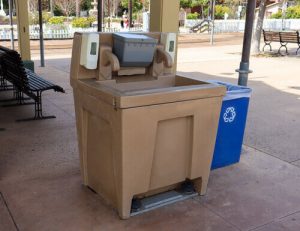 These free-standing stations are designed to be easily brought in and removed from an outdoor area where porta potties are being used and meet OSHA requirements for construction sites. The tanks hold water that pumps up into the sink, and there are soap dispensers to ensure the best sanitary options available in an outdoor setting. The portable hand wash stations provide several hundred washes per tank, making this an efficient but effective option for maintaining a sanitary, germ-free environment at your Wilmington area worksite or event.
Portable hand wash stations are convenient, simple, and keep your Wilmington area worksite or event sanitary. In a post-pandemic world, the spread of germs, diseases, and illnesses has become a constant part of people's mindset. Perfect for construction sites, weddings, employee or business events, festivals, concerts, parties, street markets, fairs, or any other location where large numbers of people might be. Encouraging people to wash their hands can easily be done by providing a portable hand wash station. Hand wash stations are not only for those using the porta potties. Employees at a worksite can easily wash the dirt off their hands or small equipment if necessary. Attendees at an event who are consuming food or drink might find it useful to wash sticky hands, rinse their freshly bought produce from the market, or wipe a spilled substance off their clothing. Anywhere that might have pets or children will benefit greatly from a portable hand wash station as well.
Plan for at least one hand wash station for every porta potty at the location. On average, people will use the bathroom at least once every three to four hours. If alcohol is being served at the location, increase expected usage by 20-30%. When hand wash stations are not readily seen and available, there is minimal hand washing or sanitizing taking place making the location more prone to germs and illnesses being spread. For the hand wash station, each pump releases approximately 2 ounces of water, with each person using an average of four pumps per wash. Having access to a water source to refill the tanks will be helpful if planning to have the hand wash station for more than four hours, depending on the number of people estimated to be at the event or worksite. Single sink wash stations will provide approximately 250 washes, while double sink stations will provide approximately 350 washes.
While placed outside of the porta potty, there are several other ways to encourage workers or event attendees to wash their hands. Placing a simple sign inside the porta potty will help remind users not only to wash their hands but also lets them know a hand wash station is available to use. If there will be maps or materials passed out or posted around the worksite or event, including the hand wash stations along with the restroom locations. Management and supervisors at worksites and employees at events can set a great example for others just by being seen using the hand wash stations.