Wheelchair Accessible Porta Potty
Wheelchair Accessible Porta Potty Options in Buffalo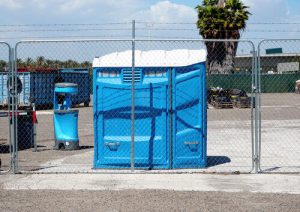 A lot can be said about the wealth of options available to Buffalo, New York natives when it comes to a porta-potty. You may have heard about all the wonderful options that exist. From the luxury trailer bathroom all the way down to your deluxe porta-potty and even your standard porta-potty. You need not worry about your budget or the type of event that you are hosting because Buffalo, New York has got it all.
But putting luxury aside, the number one thing that any bathroom or porta-potty should be is accessible. Accessibility is everything, after all, it doesn't matter how incredible your porta-potty is if it can be accessed by everyone. This is why I am going to go over wheelchair-accessible porta potties and the options available to you in Buffalo, New York.
Wheelchair Accessible Porta Potty
The wheelchair-accessible porta-potty is pretty self-explanatory. A ramp is provided with the porta-potty so that wheelchair users can find their way into the porta-potty without any issues. Is that all there is to it? No, a wheelchair-accessible porta-potty has more to it than just a ramp and a name.
Believe it or not, most wheelchair-accessible porta potties don't even come with a large ramp. They are designed in such a way that won't take up any more space than required. They are fitted with an anti-slip floor so that the wheelchair will gain traction and not slide around. The interior has also been modified in order to accommodate both the wheelchair and the user separately.
The wheelchair is kept in place next to the toilet. This is done to ensure easy access when dismounting from the wheelchair and when getting back on it once the user is done going to the bathroom.
Safety First
Looking through the features that I have gone over above, leads you to one conclusion. Safety is everything. We want our event patrons to feel safe when using the bathroom, especially the handicapped. This is why such special attention to detail was paid to every inch of the wheelchair-accessible porta-potty.
The anti-slip floor, the amount of available space for both the user and their wheelchair. Even the extended ramp that we are used to seeing is not present. This is because a ramp could quickly become a slide if the weather is not amicable. Needless to say, this would not be a fun experience for any wheelchair user.
Where To Use a Wheelchair Accessible Porta Potty?
These porta-potties are great for parties in a park or a concert. Festivals are usually attended by the locals of the city, Buffalo is no stranger to festivals, which means that this kind of porta potty would feel right at home in Buffalo.
It is important to care for one another and keep each other's needs in our minds. Not only must we strive to provide a hygenic and comfortable porta-potty experience to our patrons, but an accessible one as well. A wheelchair-accessible porta-potty fills all these needs.