Luxury Porta Potty
Here are the Facts About Luxury Trailer Bathrooms in Buffalo, NY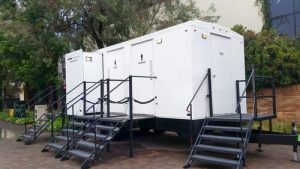 If you have never used or even seen a luxury trailer bathroom then I would have to consider you one of the unlucky ones. They are not just portable bathrooms but an entire experience wrapped up in what can only be described as the peak of all porta-potties out there. These are the kind of portable bathrooms that are necessary for your higher-end events.
You may have already seen one and just not have known it. If you spend any kind of time outdoors in Buffalo, New York then chances are that you came across one without giving it a second look. Here's why.
The Best of The Best
From the outside, you would not think that such a massive trailer could be a bathroom. When we think about porta-potties, we imagine a stuffy and dirty blue box that has little in the way of amenities. They provide an unsanitary and primal experience but a luxury trailer bathroom is anything but that.
At first glance, a luxury trailer bathroom looks more like a small trailer home or even some kind of camping solution, not a portable bathroom. Usually painted all white, with one or two doors depending on the specific unit.
Most luxury trailer bathrooms have 3 doors and if accessibility is a must then fear not because there are four-door luxury trailer bathrooms. Each door leads to its own private space and a ramp is provided for anyone in a wheelchair or if steps are no longer a possibility.
This is what luxury trailer bathrooms aim to provide. An option for anyone looking to relieve themselves within a space that won't gross them out. Due to the outside design, any passerby won't think twice about it. Remember that a poorly designed amenity can bring a classless look to your event. You don't want all of your hard work to be brought down by a portable bathroom.
Choosing a luxury trailer bathroom means choosing to respect yourself, your event, and most importantly, your patrons.
Where To Use The Best?
What event could justify such a state-of-the-art bathroom option? I can think of at least three off the top of my head, and chief among them would be a wedding. The trend of outdoor weddings is here to stay. Nothing puts a special and natural feel to the happiest day of your life than being wed under the blue sky.
But a great way to bring down your spirits is to have a standard porta potty experience as the only option available to your friends and family. Not to mention, that stuffing your wedding dress into such an unsanitary location is not desirable. Luxury trailer bathrooms are for your higher-end events, such as any kind of recording set or a charity event.
Luxury trailer bathrooms are the "spare no expense" option and they are well worth the price. For legitimacy, privacy, and dollar value, this is the only option that will fully satisfy all previous criteria.